Check out these 11 startups in Japan and the ecosystem builders supporting them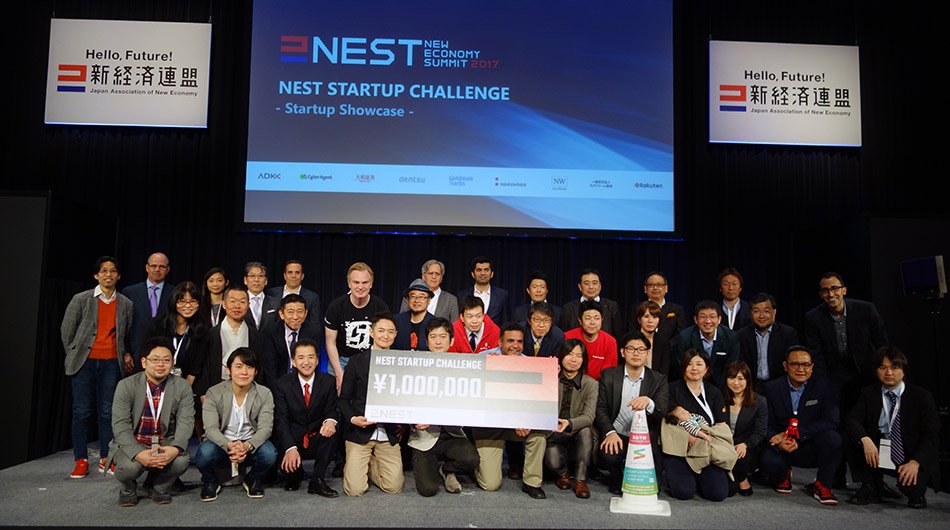 The Japan Association of New Economy held its annual New Economy Summit today. The association is headed by the founder of Rakuten, Hiroshi Mikitani, and for the third year in a row the business conference featured startups pitching for exposure to top Japanese companies and US$10,000 in prize money.
This year each startup was recommended by a local "ecosystem builder" which introduced each company before the five minute pitches started.
Check out Tech in Asia's recommendation and the other finalists below.
PocketMarche – recommended by Infinity Ventures Summit
PocketMarche connects farmers and fishers with consumers directly through an app.
Farmers can post pictures and a description of their goods with their smartphone as well as create a delivery slip automatically thanks to PocketMarche's partnership with one of Japan's largest shipping companies.
The online community lets food producers chat directly with consumers to create real relationships.
"We aren't robots, we are people," says CEO Hiroyuki Takahashi on stage. Hiroyuki wants to bring the feeling and connection back between people who make food, and those who enjoy it.
After a string of second place finishes at recent pitch events, PocketMarche finally came out on top tied with one other startup.
Agribuddy – recommended by Incubation and Innovation Initiative's Mirai 2017
Agribuddy, the other winner, is a financial support platform for small scale farmers.
Although small farmers use 24 percent of farming land according to Agribuddy, they lack a strong support structure and access to capital – especially in emerging economies.
Agribuddy provides online tools and tips, but more importantly it can help farmers secure loans from a bank with a credit rating system based on what crops are grown and estimated income.
Over 35,000 farmers are now registered for the service.
Agribuddy and PocketMarche will split the US$10,000 prize money.
Aba – recommended by Samurai Incubate's Samurai Island Expo
Aba's new health care service Helppad detects and notifies caregivers when a patient's diaper needs to be changed.
Japan is facing a crisis in elderly care as the population ages and fewer people become nurses and caregivers. Helppad is device placed on the bed which can differentiate between someone going number one and number two by smell and then notify a caregiver when a diaper needs changing.
The device is expected to officially launch at the end of this year.
Smart Parking – recommended by CyberAgent Ventures' Monthly Pitch
Smart Parking by Seed is an app for finding and lending unused parking spots.
Anyone can list their space on the service and mark it as available for rent with a special beacon cone provided by Seed. The app guides drivers to unoccupied spots and payment is made by tapping the smartphone to the cone when arriving and again when leaving.
The service is currently in beta.
ComQuest Ventures – recommended by Fukuoka City's Startup City Fukuoka
ComQuest Ventures is a drone startup focusing on both hardware and software.
The company's design software features aerodynamic modeling technology to help makers of unmanned aerial vehicles (UAV) test flyability. Through the software engineers can run different design simulations like where to put motors or batteries and see how a design change would affect flight.
ComQuest Venture's new prototype UAV, SR-1 VTOL, has rotating propellers which allow for both hovering and horizontal flight. The UAV can reach speeds of up to 55 kilometers per hour with a flight time of 50 minutes.
Fitty – recommended by Kobe City's Kobe Innovation Ecosystem
Fitty by Scala International is an online fitting service for lingerie.
The company measured 3,000 different bras and the fit on 60 different women to create an algorithm to help customers find the perfect underwear.
The lingerie industry has had a tough time moving into ecommerce due to fitting problems with only 5.2 percent of sales coming from online sites according to Yano Research.
Over the past year, shops offering bras recommended by Fitty's four question fitting survey have seen an average monthly conversion of 18 percent of bra shoppers who used the tool.
Kekkan Bijin "Beautiful capillaries" by At – recommended by Osaka City's Osaka Innovation Hub
At's device provides a non-invasive way to measure the health of your capillaries.
Capillaries circulate nutrients and deliver oxygen to cells in your body and are a good indicator of overall health, claims At. The company wants to make the device as common as a blood pressure monitor and part of a typical health checkup like taking someone's temperature.
The device costs US $3,500 and 800 have been sold so far – an increase of 100 units since we last saw the team in early February.
Fove – recommended by Slush Tokyo
Fove is a virtual reality (VR) startup which focuses on eye tracking technology.
The technology helps users experience a more natural depth of field and lets users aim with their eyes, focus their vision, or even make eye contact in VR.
A recent collaboration with the University of Tsukuba helped students with special needs join a band and play a virtual piano with their eyes.
Dattabot – recommended by Tech in Asia

Dattabot is a big data and analytics firm.
The company prepares and processes data and then uses the discovered connections to make recommendations to businesses. The firm counts global players like General Electric among its clients.
A recent project combining drone surveying data and sensors in Indonesia helped farmers increase crop yield by 86 percent.
Bring – recommended by Tohmatsu Venture Support's Morning Pitch
Bring is a recycle project by Jeplan (Japan Environment Planning).
Bring wants to reduce dependency on petroleum-made materials. The company offers several programs to help individuals and corporations recycle goods like clothes and plastics for reuse or fuel. It counts 80 major brands such as McDonald's and Starbucks as partners.
In three months over 60,000 people participated in a clothes recycling drive to make Back to the Future literally come to life. Clothes were turned into bio-ethanol which was then used to power a real DeLorean.
G-tac – recommended by METI's SIDO Next Innovator 2016
G-tac (Genetic, individualized Treatment Assisting Center) is a platform which introduces people to different DNA sequencing services.
The cost to sequence the full human genome has been greatly reduced these past few years. G-tac imagines a future where everyone receives personal health care based on their own DNA and virtually eliminating misdiagnosis.
The company has partnered with nearly 1,400 medical partners across Japan which offer services from early cancer detection to personalized diet and exercise programs.