Google's Tez payments app just went live in India, and we tested it to see how fast it is
Google today entered the Asian mobile payments fray with the launch of a new app in India called Tez – which means 'fast' in Hindi. It has also registered the trademark in Indonesia and the Philippines, suggesting that an expansion across Asia is imminent.
The app is already live on Google Play. India's finance minister Arun Jaitley will be launching it formally in Delhi today. Tez rides on India's government-backed unified payments interface (UPI) – hence it's a huge endorsement of the public digital infrastructure that started rolling out in the country last year.
UPI enables instant mobile payments between multiple banks on a single app. It does away with the need to enter bank account details and codes or waiting for a beneficiary to be added. The bank assigns a virtual address to the user after authentication, which has also become faster and easier with India's biometrics-based Aadhaar ID.
On downloading it, Tez asked me to link one of my bank accounts. It then allows me to send money to anybody who has the app, whether it's an acquaintance, a merchant, or a restaurant. The money gets debited directly from the bank, so there's no need to transfer money to a wallet. All this took just a few minutes to set up, and I could transfer money instantly to a friend who downloaded it too.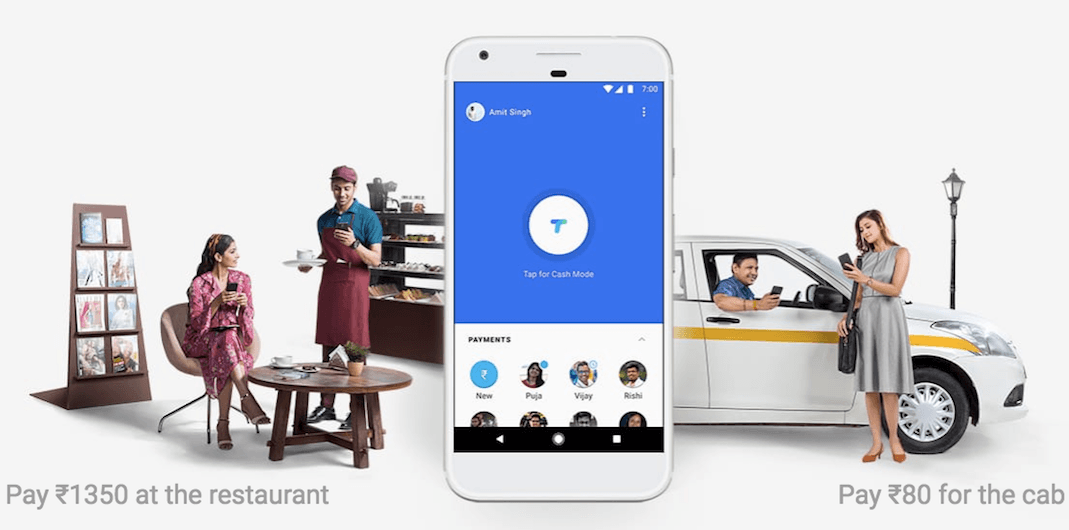 Google's Tez also has a "cash mode" which lets the user transfer money to somebody nearby who also has the app, using the location service.
Google had initially wanted to launch its wallet Android Pay in India, but ran into regulatory hurdles on data transfer, storage, and security. Now, its UPI-enabled app circumvents those hurdles with a system that's supported by the National Payments Corporation of India, an umbrella organization set up by the Reserve Bank of India.
UPI-enabled apps also do away with the need for card-swiping at retail outlets. India's leading ecommerce site Flipkart uses UPI for its payments app PhonePe, and even the top digital wallet Paytm, which recently launched a payments bank, has a UPI payment option. WhatsApp too is expected to launch a UPI-based payments feature soon.
See: India makes an ambitious move toward a cashless society
Google's Tez also has a "cash mode" which lets the user transfer money to somebody nearby who also has the app, using the location service.
These are only the immediate uses of the app. Essentially, it can be used wherever UPI payments are enabled, including Google's own music and video streaming services and other apps. The minimum payment on it is as low as INR 50 (US$0.78) – so it enables micro-payments.
More than 90 percent of smartphones in India run on Android, so the Tez app will be almost ubiquitous. It supports seven Indian languages – Hindi, Bengali, Gujarati, Kannada, Marathi, Tamil, and Telugu – apart from English.
This is also a watershed moment for UPI, which had a lukewarm response when it was launched in April last year, with only 30 out of 150 eligible banks adopting it. It got a push with demonetization in November as the government began to take drastic measures to move financial transactions online.
See: A crash course on India's digital ID: why it has such staunch believers and fierce critics
Google's typically easy user interface, coupled with the confidence users may have in its backend security protocols, could give digital payments another major boost in the world's fastest growing smartphone market.
source : techinasia