Looking to enter Japan? TIA Tokyo 2017's got the tools for you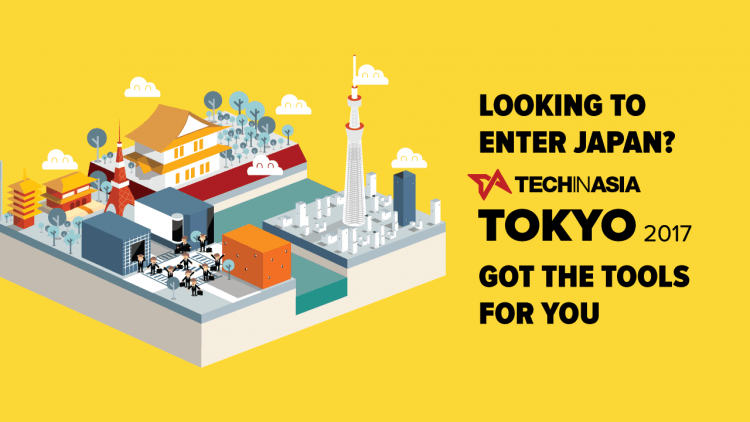 The Land of the Rising Sun has long been a notoriously challenging market for international companies to break into. Even as the Japanese have gradually warmed up to the entry of foreign players into their local economy, navigating this unique environment is still a daunting task for many.
If you are toying around with the idea of entering the innovative Japanese market but have no idea where to start, help is on the way! We've picked out content sessions at the upcoming Tech in Asia Tokyo 2017 on September 27 & 28 that will benefit you and others in your position.
Don't miss out on this opportunity to learn from the experts everything you need to know about doing business in this country, from the tricks of the trade to the pitfalls to take note of.

Step 1: Understanding Japan's position in Asia's digital economy
Where: Main Stage
When: 27 September, 10:15 – 10:30
The first thing you need to do is understand Japan's position in Asia's digital economy. Kickstart the conference with David Corbin, Country Manager for Tech in Asia Japan, in his keynote speech on the increasing influence of Japan's startups, investors and corporations on the rest of Asia.
Having opened its doors in recent years to foreign startups, Japanese businesses and corporations are taking greater interest in Asian startups, taking steps towards investment and other partnership opportunities. Among these are REAPRA Ventures and GREE Ventures, who have invested more than US$60 million in total in startups across countries such as India, Indonesia, the Philippines, and Singapore. Japanese e-commerce giant Rakuten is also on this list, having pumped money into Singaporean online classifieds app Carousell and Indonesia's ubiquitous ride-hailing app Go-Jek.
Step 2: Entering the Japanese Market – The Technicalities
Where: Startup Strategy Workshops
When: 28 September, 11:30 – 12:00
Put your game face on and get ready for the heavy stuff – start Day Two with a serious introduction to the technicalities of entering the Japanese market. From cultural norms to legal procedures, it is no walk in the park so you'll definitely want to get a headstart. Get all your questions answered by the pros as these veterans walk you through the intricacies of entering this particular market. They'll touch on issues including important differences in business law, estimation of cost, mistakes to avoid, and even a timeline of the incorporation process.
Step 3: Globalisation and Japan
Where: Main Stage
When: 28 September, 14:00 – 14:30
Round off these informative sessions on entering the Japanese market with a talk by co-founder and CEO of pioneer Japanese startup Nulab, Masanori Hashimoto.
Founded in 2004, Nulab bootstrapped its way through the initial years and worked its way up to an international presence, with offices spread across Japan, Taiwan, Singapore, Indonesia and the US. Nulab now has more than 1.5 million registered users worldwide, especially in Japan, the US and Taiwan.
Globalization has transformed the business world by eradicating geographical boundaries and is now a fundamental component for startups to grapple with. Just as Hashimoto and his team set their sights on business at a global scale, it is essential for startups to aim far and keep this long-term goal in mind.
Join this session and gain invaluable insights into Japan's startup scene as Hashimoto-san shares more about his experiences.
Note: Nulab's session will be conducted in Japanese. Translation devices will be provided.
Get your armour ready
Laying the groundwork is perhaps as important as having a good business plan, so these sessions are crucial for you if you're serious about entering the Japanese market! We'd hate it if you missed out on this chance to hear from people on the inside.
Get your tickets to Japan's real tech conference before you miss out on it and have to wait for another year.
source : techinasia