Here are the 11 cryptocurrency exchanges approved by Japanese regulators
Yesterday, Japan's Financial Services Agency (FSA) revealed that it has approved 11 companies to run cryptocurrency exchanges in the country. The official endorsement of these operators comes several months after the FSA decided to take a more active role in the burgeoning cryptocurrency market.
The regulator ordered exchange operators to register with it back in April, and laid out various requirements that would have to be met for them to be allowed to continue offering exchange services.
The approved operators are:

All but one of the operators are based in Japan. China's Bitbank is the only foreign player to receive the FSA's endorsement so far. The agency says it is currently considering a further 17 companies for possible approval.
These are the cryptocurrencies and company-issued digital tokens that the 11 approved exchanges are able to trade at the current time:
BCH – Bitcoin Cash
BCY – Bitcrystal
BTC – Bitcoin
CICC – Caica Coin
ETC – Classic Ether
ETH – Ether
FSCC – Fisco Coin
LTC – Litecoin
MONA – Monacoin
NCXC – NCXX Coin
PEPECASH – Pepe Cash
SJCX – Storjcoin X
XCP – Counterparty
XEM – Nem
XRP – Ripple
ZAIF – Zaif
ZEN – ZenCash
The table below shows which cryptocurrencies and digital tokens are handled by each of the approved exchange operators.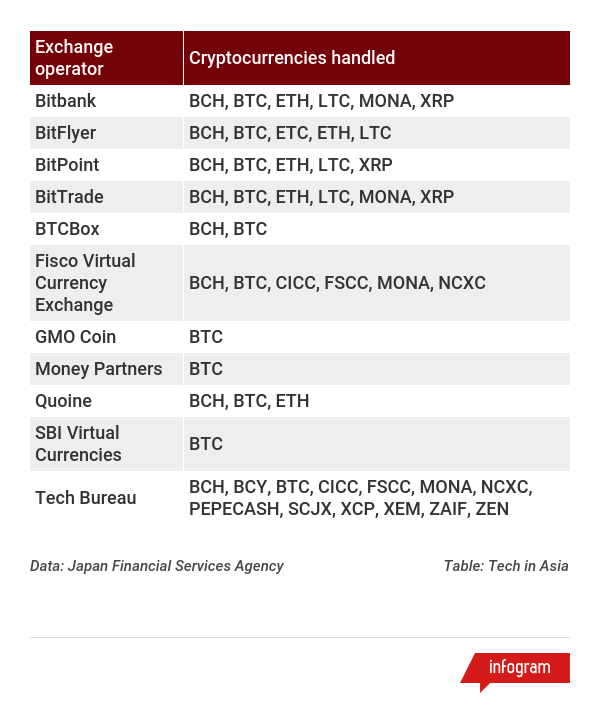 Never miss a story.
Sign up for an account and get the latest & best stories in your inbox, every day.
source : techinasia