China's $100b online shopping niche
In the midst of China's US$1.2 trillion online spending spree this year, there's a particular niche that's growing quickly – cross-border shopping.
Nearly a quarter of China's online shoppers will buy at least one thing this year from an overseas site or seller, says an Emarketer report out today.
"The factors fueling the trend toward greater cross-border shopping are nothing new, as the average Chinese consumer is now more tech savvy, more exposed to foreign brands through overseas travel and the internet and, crucially, more willing to spend," says Shelleen Shum, Emarketer senior forecasting analyst.
They're searching for items that they cannot find in the country – or seeking out sweeter prices, better quality items, or dodging the fakes that plague some sites.
That growing enthusiasm translates into a record US$100 billion in cross-border ecommerce purchases this year – rising to an anticipated US$144 billion by 2021. Average spend per shopper in 2017: US$882.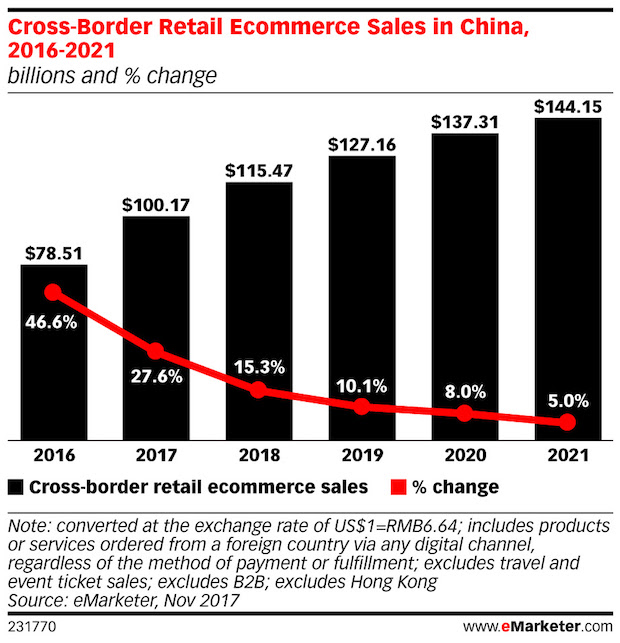 From Alaskan salmon to Korean makeup to freshly dropped limited-edition sneakers, China's shoppers are using a mix of overseas ecommerce stores and local ones that are increasingly attracting merchants around the world.
Both Alibaba and JD, China's top online shopping destinations, have been pushing in recent years to get overseas brands and sellers of all sizes to sign up and sell direct to Chinese consumers without the need to establish a business entity in the country. That has "made it easier for shoppers to access a wide variety of overseas products on a platform they are familiar with," Emarketer adds.
During last weekend's Singles Day, when Alibaba's shoppers spent US$25 billion in pursuit of special discounts, the top five countries selling to China were – in descending order – Japan, the US, Australia, Germany, and South Korea.
Updated three hours after publishing: Added in sentence about Singles Day.
See: Chinese ecommerce giant shows off its first 'robot warehouse'
Never miss a story.
Sign up for an account and get the latest & best stories in your inbox, every day.
source : techinasia