SoftBank's $10b investment in Uber could end the war with Grab in Southeast Asia
As Uber's board gives the green light to what could be a US$10 billion investment deal with SoftBank, all eyes in our region turn to the ride-hailer's local competitors, most notably Ola in India and Grab in Southeast Asia.
Assuming the deal goes through, Uber and Grab will once again find themselves sharing a major investor – Chinese ride-hailing giant Didi Chuxing is already an investor in both, and SoftBank (which has also invested in Didi) will be one more.
What does this mean in the long run for Uber's fortunes in Southeast Asia? Not everyone agrees on that. Grab and Uber are neck and neck in the countries they share, including Singapore, with Grab pulling ahead of its US rival in several of them. Riding on both cars, SoftBank wins regardless in this scenario, but there's another possibility everyone is thinking about – Grab and Uber putting aside their differences and merging under the SoftBank roof.
All in the family
Monk's Hill managing partner Peng T. Ong believes the planned investment could bring the two companies closer together. "It is a possible friendly way to work towards consolidation," he notes.
It is possible that SotfBank would bring the two operations together in the future.
Elizabeth Lim, editor at M&A research firm Mergermarket, shares the same view. "SoftBank will probably continue to invest in both startups in the region, and it is possible that they would bring the two operations together in the future," she says.
Lawrence Cheok, senior research manager for market intelligence firm IDC, feels that the consolidation of SoftBank's ride-hailing assets would be a "win" for the fund – yet there are other ways for everyone to win too.
"What would create a win-win-win scenario for all firms involved is to avoid price competition and collaborate on technology sharing to create a global ecosystem," he explains. He uses the Uber-Didi deal as an example of how this could work. The deal basically resolved the unhealthy price war between them and left Uber with at least a foot in the Chinese market through its stake in Didi.
"Instead of straight-out mergers, a similar approach may be taken by [SoftBank] to encourage collaborations between firms under its portfolio. Doing so seems in line with their investment strategy to build up a global ecosystem of technology disruptors," Cheok says.
Malaysia-born, Singapore-based Grab claims to have over 1 million drivers and recently announced a milestone of 1 billion rides across Southeast Asia. Having raised over US$4 billion in disclosed funding, its pockets are not as deep as Uber's but it has cemented its presence in the region as a force to be reckoned with.
In Singapore, Uber celebrated its four-year anniversary earlier this year, announcing it hit 1 million active riders in the city-state with "tens of thousands" of drivers. It crossed the 5-billion-ride mark worldwide in June.
Cheok cautions a possible consolidation might not end up being such good news for consumers – the price wars might end, but that could result in increased costs for users that could sometimes be inscrutable, like the dynamic surge pricing system. "Under a monopolistic market structure, there needs to be more transparency how these changing prices are generated or calculated," he notes.
Spring cleaning
With or without an alliance, the potential SoftBank investment could help Uber put its house in order. "Such an investor will bring some discipline to [Uber]," says Kee Lock Chua, CEO of Singapore-based venture capital firm Vertex, an early investor in Grab.
The incoming investment could help Uber put its house in order.
Under former CEO Travis Kalanick, the embattled company was connected to controversies ranging from sexual harassment and sexism to questionable competitive tactics – like the Hell program to gather data on US rival Lyft's drivers and a project called Surfcam to scrape data from competitors like Grab.
If SoftBank does end up coming on board as an investor, it will likely have little patience for such shenanigans, Chua thinks.
Mergermarket's Lim also thinks SoftBank will have a big influence on Uber's board.
"Uber has attempted to move past its recent woes by resolving certain issues within its board, which paved the way for this investment to take place," she says. "With plans for an IPO in 2019, SoftBank's stake buy and two new board seats signal a move forward finally for the ride-sharing company."
The US company's board of directors decided to go ahead with the deal by resolving the much-discussed feud between Kalanick and investor Benchmark Capital. Benchmark agreed to suspend the lawsuit it kicked off against Kalanick a few months ago so that the deal with SoftBank could proceed. If SoftBank does invest, Benchmark said it would drop the lawsuit, which aimed to reduce Kalanick's influence over the board.
See: Uber was catching up with rivals in Southeast Asia. Now the gap could be widening
Head to head
In the meantime, Chua feels Uber's competition with Grab is a good thing so long as it's healthy, and new people coming on the company's board should help with that.
Competition, after all, can help diversify and improve both companies' services.
Grab has quite the headstart there, with several verticals under its umbrella. From taxis and private-hire cars to bikes, shuttles, and coaches, the company has offered enough different mobility services to make itself as ubiquitous as possible.
Uber does carpooling and motorbikes as well (although its offering in this regard lags behind Grab and Indonesia's Go-Jek) but it's mostly laser-focused on its core product – the private-hire car. UberEats is quite the tasty addition to its verticals but one that faces its own competition from other providers like Foodpanda and Deliveroo. Grab has its own food delivery offering but only in some markets like Indonesia and Thailand.
Grab wants to expand into other applications beyond just ride-hailing.
The kicker may be the way Grab wants to expand into other applications beyond just ride-hailing. The company wants to use its e-wallet function to enable more online-to-offline services.
Earlier this year it acquired Indonesian fintech startup Kudo to expand its payment network. During Grab's five-year celebrations, CEO Anthony Tan said the company wants to "win payments in Southeast Asia," saying that the app's user base can be the groundwork for more services.
Grab already made it possible for users to make peer-to-peer micropayments using the wallet, while more recently it announced its payment system can be used at restaurants and hawker stalls through a WeChat-like QR code.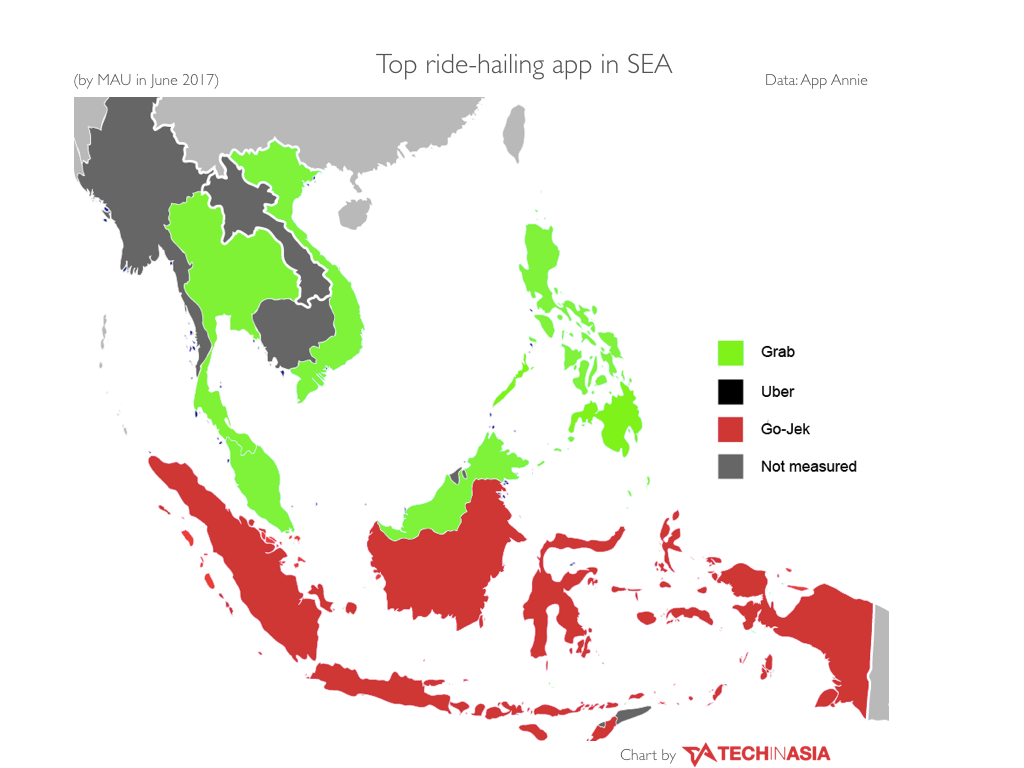 Not going anywhere
Grab's strong position in Southeast Asia could portend a repeat of what happened in China where Uber sold its local business to Didi, or Russia where it pulled out while retaining a stake in a joint venture with home-grown player Yandex.
However, during The New York Times DealBook conference a few days ago, new Uber CEO Dara Khosrowshahi dispelled rumors of Uber ceding the Southeast Asian market to competitors.
That said, Khosrowshahi doesn't expect profitability from Southeast Asia anytime soon. "The economics of that market are not what we want them to be – I think it's over-capitalized at this point," he pointed out.
See: What SoftBank's $10b investment in Uber means for its battle with Ola in India
source : techinasia