Grab unveils bike- and scooter-sharing app in salvo against Mobike and Ofo
Grab is about to launch an app that will allow consumers to hire bicycles and electric scooters from a variety of providers. GrabCycle Beta will integrate offerings from oBike, GBikes, Anywheel, and Popscoot. It will be piloted on Sentosa Island in Singapore before rolling out to other locations.
Users can pay for rentals with GrabPay, Grab's payments solution, which it is also rolling out to food stalls and retail outlets in Singapore.
The move is similar to what its ride-hailing counterpart Didi Chuxing has done in China. Didi's bike-sharing feature aggregates its own bicycles with those from bike-sharing giant Ofo.
GrabCycle may help oBike stay competitive against Chinese giants Ofo and Mobike. OBike has sunk in Singapore's app store rankings lately, while Ofo and Mobike have risen to the top. The picture is similar for Android.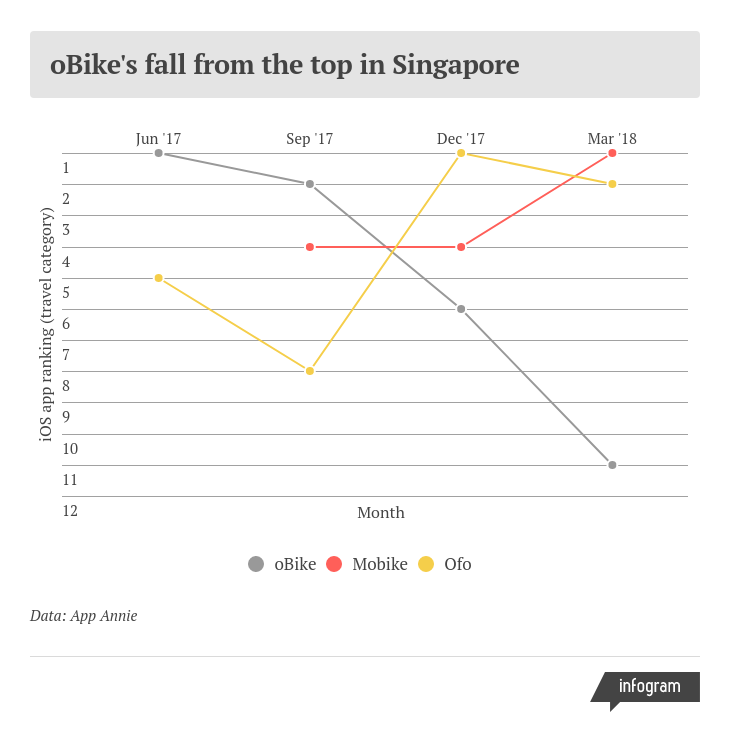 Questions have hovered over Grab's ability to make its ride-hailing business profitable. Tacking on an unproven bike-hailing model may raise the din even further. Yet adding bike-sharing to its offerings could boost GrabPay, argues Li Jianggan, CEO of startup consultancy Momentum Works. "It's a cheap way to increase usage of GrabPay. It's cheaper than subsidizing taxi or car rides."
The move also gives Grab control over the users and data without the expenses of maintaining and distributing the bikes, Li adds. This gives Grab leverage over its bike-sharing partners, even as they benefit from the added business provided by the mothership.
Also, with Uber's impending sale of its Southeast Asian business to Grab as it prepares for an IPO, Grab's odds of success have improved.
Grab's dominance of ride-hailing in Southeast Asia may have begun, although regulators and its well-funded competitor Go-Jek may have something to say about it. Further, Grab's bottom line in certain markets will improve as the price war between it and Uber winds down. A duopoly between Grab and Go-Jek in the region is a possible outcome, as both parties may decide to end heavy subsidies and focus on profitability.
GrabCycle is a pilot project by GrabVentures, Grab's innovation arm.
This is a developing story. Check back for updates.
This post Grab unveils bike- and scooter-sharing app in salvo against Mobike and Ofo appeared first on Tech in Asia.
source : techinasia