Singapore startup raises $30m to let you buy electricity on blockchain
Electrify, which aims to use blockchain to let users buy electricity from energy retailers and other consumers, has raised US$30 million in under 10 days via a token sale, the Singapore-based startup said in a press release on Wednesday.
This makes it one of the largest token sales from a Singapore company on record, according to Tech in Asia's data.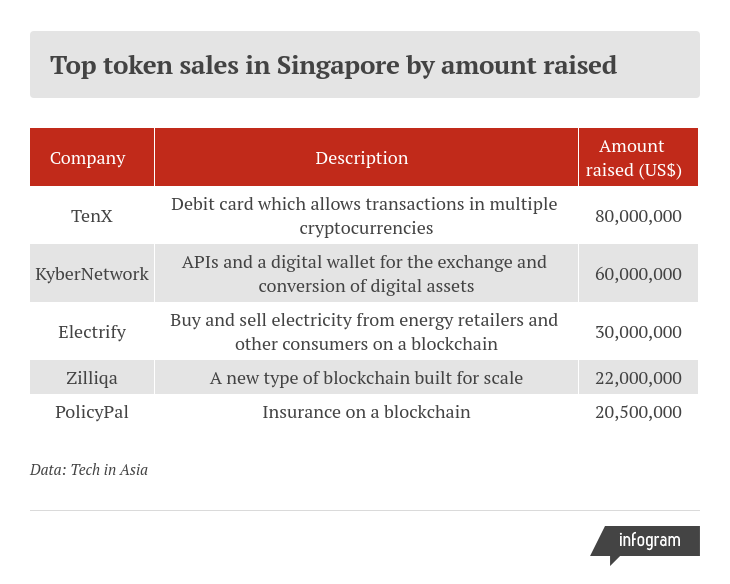 Currently, Electrify's proprietary engine collects and displays retail electricity offers. This helps consumers stay more informed about their choices. It also digitizes the electricity contracts to eliminate the need for manual filling.
According to the year-old company, it has helped Singapore's businesses save upwards of US$554,000 in electricity bills since it began operations. It has transacted US$3.79 million worth of electricity since March 2017.
In the second half of 2018, the startup will replace its current model with one powered by blockchain. Residential or business consumers can transact with energy retailers via a peer-to-peer network using Electrify's cryptocurrency ELEC, or in fiat money. This will remove the need for middleman fees and reduce transaction cost, said the company in its whitepaper.
The blockchain model is expected to pare down costs for Electrify and its consumers. The use of "smart contracts" – digital contracts in the blockchain – removes the cost of legal, accounting, and financial settlements. These can account for as much as 30 percent of the retail cost of electricity in traditional transactions, said Martin Lim, Electrify's COO and co-founder, in an interview with Tech in Asia.
"Built on the tenets of the blockchain, our solution will drive down operating costs, ensure the transparency of contracts, and also speed up and streamline contract validation and auditing," he explained.
Billions in pledges
Electrify claims that over US$1.3 billion was pledged towards its funding campaign, which means that it did not accept over US$1.27 billion in funding.
According to the founders, the fundraising was capped at US$30 million after analyzing the amount needed to expand their project. These plans were outlined prior to the initial coin offering (ICO) in a report. "The success of the ICO is heavily dependent on the blockchain community at large," said Lim.
He added, "Despite overwhelming support, our plans remained the same and we couldn't, in good conscience, increase the amount."
The funding, all raised in ether (ETH), the digital token on the Ethereum network, came from both institutional and individual investors, the company said. Of these investors are prominent VCs like Global Brain and Ethereum's co-founder, Wendell Davis. The funds raised will be used to expand into other markets including Southeast Asia, Japan, and Australia.
"Countries across Southeast Asia are starting to liberalize their electricity markets," noted Julius Tan, CEO and co-founder of Electrify. Expansion into these markets will require adjustments to its model to suit country-specific regulations. The startup also said it will work with local partners for smoother entries into various energy markets.
The startup credits its traction to the liberalization of Singapore's energy market and surging global interest in blockchain technology.
In December 2017, the first cryptocurrency cafe opened in Singapore. The cafe deals only with cashless payments via credit cards, or its own digital currency called Ducatus. Some of Singapore's government agencies like the Monetary Authority of Singapore (MAS) have recognized the potential impact of blockchain on the financial industry and are planning to use it for record-keeping purposes.
Era of energy deregulation
In April 2018, Singapore will begin deregulating its electricity market in two phases. This move will give both individual and business consumers the option to "buy electricity from retailers […] under price plans that best meet their needs," said Singapore's Energy Market Authority (EMA).
Phase one will allow 108,000 local consumers and 9,500 businesses to have access to a wider selection of electricity retailers apart from Singapore Power (SP Group) – the only company consumers could buy from prior to the deregulation. Phase two starts after June and will include consumers island-wide.
An open electricity market will lead to competitive pricing and better service standards that will benefit consumers, said Ng Wai Choong, EMA's chief executive.
According to statistics from Asian Development Bank (ADB), global power demand will soar by 58 percent in 20 years. Asia's annual energy expenditure alone will increase from US$700 billion to US$1.6 trillion by 2035. As countries around Asia start to deregulate their energy markets, Electrify sees Singapore as a test bed for its blockchain and peer-to-peer model.
We want entire city-wide grids to deploy our solution.
The company said that business projections will be a coin toss – it will depend on how the Singapore public responds to the technology. Though the government sees economic possibilities of blockchain, as highlighted in a keynote address by the managing director of MAS in October last year, the public remains skeptical about the technology. Only 20 retailers in Singapore accepts bitcoins, and the use of virtual currencies in the financial industry is low.
Looking northward, Electrify is already in talks with Japan – a huge player in the energy market – for deployment in the country. Japan is one of blockchain's strongest supporters, with laws put in place to ensure fair transaction.
The startup hopes to create a "paradigm shift in the settlement for the production and consumption of energy. The eventual potential is for entire city-wide grids to deploy our solution," said Lim.
Converted from Singapore dollars. US$1 = S$1.32.
This post Singapore startup raises $30m to let you buy electricity on blockchain appeared first on Tech in Asia.
source : techinasia